15 Dec

A Thank You Note From Our Volunteers

"When we give cheerfully and accept gratefully, everyone is blessed."
― Maya Angelou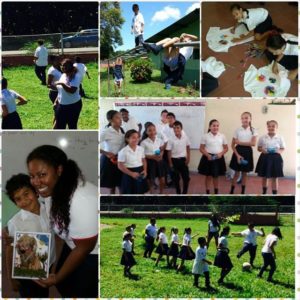 I planned a 6 day trip to Tamarindo, Costa Rica with 3 of my best friends for my birthday.  I enjoy doing community service in California where I reside, so I decided to see if there were any short term volunteer opportunities while in Costa Rica. I searched the internet for days but could only find volunteer opportunities that lasted several weeks to a year and most of the programs wanted you to pay a large mandatory fee to volunteer.
I am so grateful that I did not give up on my search because I found, Give A Day Global. With only 2 weeks prior to my trip I wasn't sure if it would be enough time to organize a project. I emailed Give A Day Global from their website and the next day I got a call from Kerry Rodgers, the Co-Founder & Executive Director. I explained that my 3 friends and I wanted to do a one day volunteer project while in Costa Rica. Within a couple of days she arranged for us to volunteer at Paso Tempisque school through a partnership with the organization Creciendo Juntos.
I honestly have to say that volunteering with the kids at Paso Tempisque school was a huge highlight of my trip. It was so awesome to see the excitement of the students once we arrived. My friends and I know very little Spanish however administrators Ronald and Rosa were there with us step by step translating so we could communicate effectively.
As volunteers we were given creative control over the activities we did with the students. We decided to do a t-shirt project in which we provided t-shirts and art supplies to 50 children ages 9-12. The kids had so much fun as we helped them design and personalize their own shirts.  We also got to play football. The students were so kind, they sang a song for us and some even wrote letters and gave us drawings they made.  The staff was very friendly; they welcomed us with open arms and even gave us snacks.
I would like to thank EVERYONE who made this volunteer opportunity possible including Give A Day Global, Creciendo Juntos, Paso Tempisque Shool,  Elsa Bonilla, Kerry Rodgers, Ronald, Rosa.
Sincerely,
Shernedra Brown
Shariana Brown
Shaunte Fitt
Tameka Diare