04 Dec

Blog post from recent volunteers at Obandito School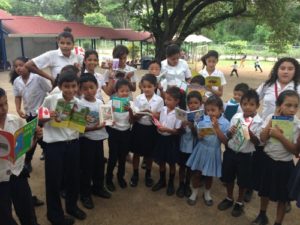 Fri Nov 14 – Our Beautiful World and Reading for Life Program [with Earth Equilibrium] at Obandito School
(excerpted from Engel Family Adventures blog)
Today was an AMAZING DAY!  🙂
There are 68 students at Obandito school.  They are in 2 classrooms and 1 kindergarten building.  The children were all so happy and welcoming.  Their classroom had desks, white boards, and some supplies.
Our children [did an educational presentation about] Canada completely on their own!  We were so proud of them.  Each one did amazing!  They shared the slides and telling about what it all meant.  Right before we started our presentation Kali tripped on the cord and the whole thing shut off.  She then agreed to Braeden's suggestion and entertained the children with her gymnastics tricks while Michael rehooked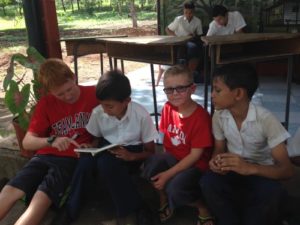 up the computer and projector again.  🙂
After our presentation, they served us cookies and coke and we watched their band play.
Then we played with the kids while they took shifts eating lunch.  Their lunch room only has 2 tables so they eat in shifts.   Michael and Braeden played soccer.  Benjamin & Brant played on the monkeybars with the kids.  Kali played with all the girls on the one teeter-totter…any guesses how many girls can fit on an 6 foot teeter-totter?? 12!!   and they were all screaming and laughing the entire time.  It was hilarious to watch!
*Funny story – On our trip we have seen HUNDREDS of dogs on the street, some in restaurants, some IN church, some on the beach and in the ocean, IN a swimming pool, and today we saw 2 dogs IN school!  They just wander in and out…. so different than from home!
Then the readi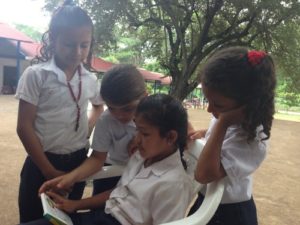 ng started. This was such a special time. It was very inspiring. They were literally IN LOVE with the books! and not one or two kids but ALL of them were SO excited to receive the books.   Together with my Mom, we bought about 30 books for the school.  We brought Spanish books and we brought bilingual English-Spanish books.  We handed out books to all the children and they formed groups and took turns reading.  When they finished reading a book, they would come choose another one from the box of books we brought.  Braeden read an ENTIRE book of Cat & Hat IN SPANISH by himself to his group!  I was so proud of him!  Benjamin, Kali, Michael, and I also read to kids and listened to kids read.  We read with them for about 1.5 hours.
The rainbow was very symbolic to me of the perfect miraculous day we were blessed with today.